Sashiko Southwest is a year old!
2015 was a wonderful year, filled with product development, meeting new customers and attending three major quilt shows.
In January 2015, the American Quilter's Society held QuiltWeek in Albuquerque, NM for the first time.  The Shades of the Southwest Exhibit  was curated by local artists, Gail Gar
ber and Donna Barnitz. One of the winning quilts was Raven Sunset by Judith Roderick.  We hope AQS will return to Albuquerque in 2017.
In February I flew
to Austin, Texas to attend the Modern Quilt Guild's annual event: QuiltCon.
I didn't win the  raffle quilt (NUTZ)!  The QuiltCon Raffle Quilt "Eames Blocks" was designed byLorena Marañon, pieced byJen Carlton Bailly and quilted by Gina Pina. (Photo below left by Susie Cushner). i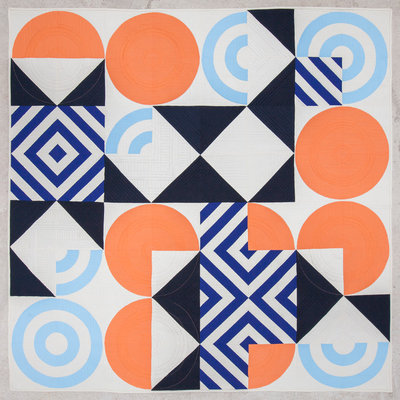 It's impossible to single out quilts that knocked my socks off – there were too many. Checkout the website for information and photos of the winning quilts.
To top off the year,  I flew to Houston for the MEGA show spon
sored by the International Quilt Association at the end of October.  The winning quilts are featured on the IQA website.
One side of the convention center was focused on quilt displays organized in categories. Vendors on the other side of the convention  center are also divided into categories. Despite all the careful planning, it's easy to get lost in the colors, amazing techniques and unique products.
I hope 2015 was a great year for you. Discover YOUR creativity in 2016! – Joyce